On 1st Jan 2023 the GST rate will be changed.

OCi will push out the new set of tax code to systems with active maintenance plans.

Existing Tax codes on system will still remain.
Actions on User side:

Users will need to verify that the chart of account selected for the new tax code are correct.

The system will choose the chart of account based on previous tax code selection

however since the Tax registration module allows user to make changes, the system selected account may not be accurate (this can be due to user creating and using their own tax code)

If you have not made changes to the default chart of accounts you should still check the tax codes.
Special note for customized document layout.

There is a very small group of users that had requested to make the tax percent permanent on the document layout.

these users will need to contact Customer Service to get a quote on the document layout changes. if you are not sure a method to test will be shown below.

if you are using our standard layouts there will not be an issue.
Verifying the chart of account for a tax code.

go Setup -> Accounts -> Tax

open the tax registration module.

the new tax codes will be denoted with an eight in the name.

Eg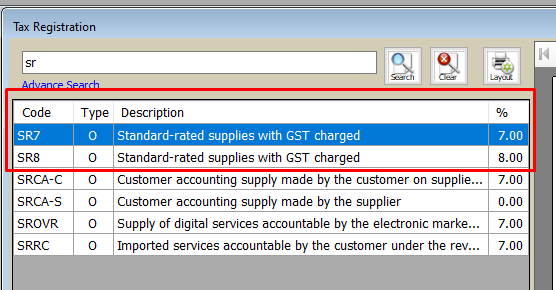 our default Chart of accounts use the following as default tax accounts.

Input Tax Account
CAS9000
Output Tax Account
CLI9000
if you have changed your chart of accounts your default tax account can be different from our chart of accounts.
Edit the 8% tax code.
Review the account for the selected tax code.

Note when editing the tax code you will receive a warning message.

the warning message is ensure users take special care when changing the chart of accounts.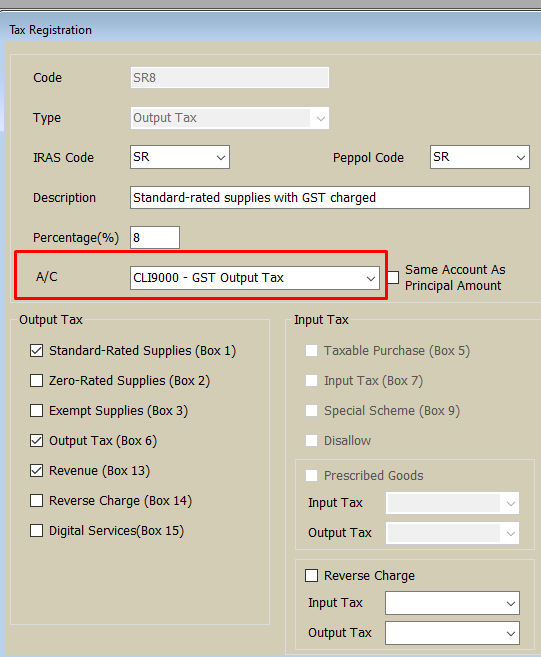 If the chart of account is incorrect, select the correct chart of account.
Checking document layout.

step 1.

create a new document.

you can edit this document later to reuse the running number or you can void and re-use the document.

this check works for both AR and AP modules.

step 2.

select a BP.

save the document
with no item selected the document value should be zero.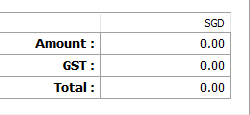 this will not have any accounting impact.

if your document layout has the changeable tax percent you should see that the tax percent is empty.

this will indicate that the layout is ok.

if you see tax percentage, this means the tax percent is
permanent (hardcoded)
and you'll need to get a new customized document
or you can use one of the standard layouts.